I've been neglecting my poor blog, mostly because I've been working a lot this week and by the time I get home I just want to shower and go to bed or not do anything for the rest of the night. I picked up some cute dresses over the last few weeks, the ones sticking out in my memory being from Hollister and Forever 21. Forever 21 has a ton of cute clothing this season but I'm trying to hold back until I get a paycheck, which should be next week! One of the hardest parts of working at Nordstrom is not using my discount since I constantly have to walk through the women's shoe department, however, as one of the other girls I had training with said, "I would probably pick out shoes and be able to pay for one and have to wait for the next paycheck to pay for the other!" Honestly, all the salespeople I've met have been super nice and friendly and I commend them, since I'd probably be terrible at working on commission.
On my lunch breaks I walk by American Apparel on my way to Au Bon Pain and it's been hard to not stop in. One item they had close to the door were these: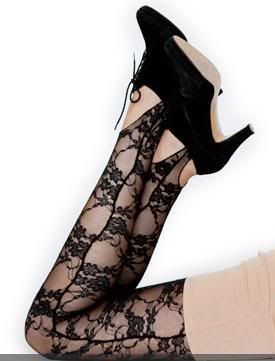 I've been wanting a pair of these floral lace stirrup leggings for months and it's so hard to pass them by, but knowing my bank account and how much these cost, I have to wait. I'm also hoping they make a lace fitted skirt similar to their lace mini dress just without the top.
Lace has been a common theme in clothing I wish to buy this season. Nasty Gal has this great white
lace slip dress
that I love.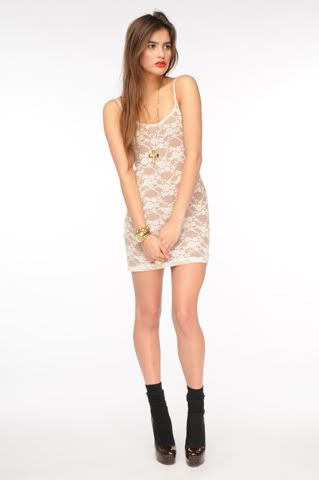 Going back to American Apparel there are several other pieces they sell that are on my wishlist, one being the
chambray henley shirt dress
: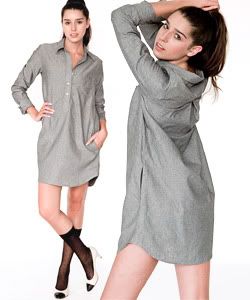 It's similar to the
Lamixx
one that I've been wanting.
The last thing I'm going to talk about is the AA
over-the-knee sock
which is obviously too cute with the heart pattern.