I've been trying to form an opinion on the jean/legging combination. I really despise the word "jegging" and after seeing it the first time, I was a little turned off to the idea. However, the more I read about them, the more willing I am to try out a pair as I am a big fan of both skinny jeans and leggings. My body shape continually frustrates me as I was not blessed with any curves to speak of and after a wearing or two even my skinny jeans become very loose in the butt area. Also, I have very skinny ankles and a lot of the time I have a hard time finding jeans that will be tight enough on the bottom. It seems that the jean/legging will solve both problems and
Urban Outfitters
has them in my favorite jean brand, BDG. The one thing I'm conflicted about is the lack of front pockets since I think it makes them look a little funny when worn but maybe the pictures don't do them justice.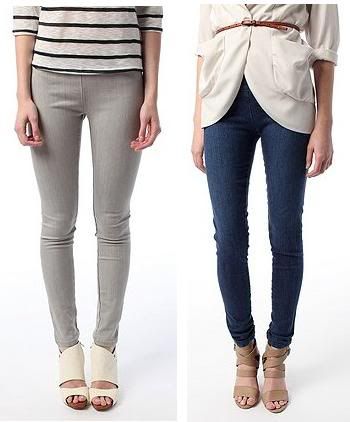 BDG Denim Legging in light grey and medium blue
Any opinions or suggestions as to where else to find them?