My Seychelles Blimeys came in the mail today :D If you know me, you already know that I am not usually a girl who wears heels. I am clumsy and am constantly walking into things or falling over things and heels just seem like they would make my ability to walk like a normal person even more difficult than it already is. However, I am in love with these shoes and I am trying to broaden my horizons and that is how I convinced myself that it was worth it to buy them.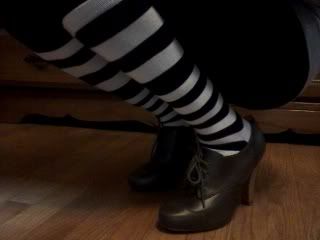 I bought them in clay from
6pm
and I had to try them on right away so I threw off my boots, exposing my favorite socks (from J-Crew) that my ex-bf's mom gave me for Christmas.
I'm happy and wearing my
Lamixx
sweater that I adore.